Dragon 1/72 Scale Lunar Approach!
I really like the Dragon 1/72 scale Apollo spacecraft kits! This is the third one of the Apollo CSM/LM that I have built. Although the kit is not without its short-comings the overall look is good to my eye. I decided to create a better display than the one that came with the kit. This allows me to display in one of those acrylic cases available at Hobby Lobby.
Dragon has announced a re-issue of their 1/72 and 1/48 Apollo kits for the 50th anniversary of the first moon landing.
These should be available sometime in the spring of 2019

Ark Models 1/144 scale Buran Space Shuttle
One recent kit that has appeared on Ebay of late is a new injection 1/144 scale model of the Soviet space shuttle Buran by Ark Models from the Russian Federation! Other than buying directly through Ebay there is no U.S. distributors handling this kit presently.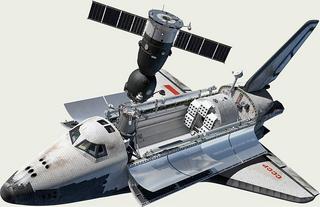 Model comes with an in-scale Soyuz
A photo of a build up of this kit. (BritModeller.com)